Welcome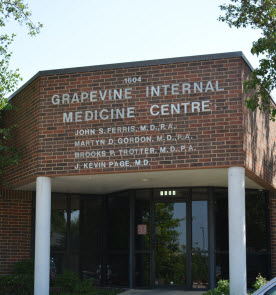 A near three-decade member of the Grapevine Internal Medicine Centre and board certified internist, Dr. Brooks Trotter specializes in the prevention, diagnosis and comprehensive treatment of adult diseases.
Doctors of internal medicine focus on caring for the whole patient, from common ailments to multiple coexistent medical conditions. Unlike family practitioners or general practitioners, internists specialize in adult health care—they do not treat children, deliver babies, or perform operations. They complete advanced clinical training and education on how to prevent, find and treat illness in adults, and are often called upon by other physicians to help solve puzzling diagnostic problems. For this reason, internists frequently are referred to as the "doctor's doctor."
"A typical patient of mine may have diabetes, high blood pressure, high cholesterol, and a few other medical problems simultaneously," says Dr. Trotter. "Since treating one condition can influence the others, a delicate treatment balance is needed. That's my favorite part of my job."
Our Office Location
We are located at 1604 Lancaster Drive, Grapevine, TX 76051
Our Office Location
We are located at 1604 Lancaster Drive
Grapevine, TX 76051.  Here is a map to our location.
Dr. Trotter Video Playlist
Watch the videos below to discover more about Dr. Brooks Trotter.